As a leading service provider in the field of drug discovery and research, BOC Sciences is fully competent and dedicated to serving one-stop molecule labeling services which has be used in various detection and assay system. With the comprehensive advanced platform, BOC Sciences provides global clients with enzyme labeling service to promote your research.
Introduction of Enzyme Labeling
Enzyme labeling is a method used to place chemical markers on the molecules of substances in bioanalysis. Molecular markers allow the detection and tracking of molecules in substances during chemical analysis or testing. Different types of tags can be used for this type of biological tag. When one enzyme binds to another molecular chemistry, the process is called enzyme labeling. Enzyme markers include enzyme labeled antigen, enzyme labeled antibody and enzyme labeled SPA. The strategy of enzyme labeling is directly related to the success of immunoenzyme technology.
Enzyme labeling enables more precise and selective functionalization. Using protein labeling as example: one of the most important approaches for protein labeling is to incorporate bioorthogonal functionalities into proteins at specific sites via enzymatic reactions. The incorporated tags then enable reactions that are chemoselective, whose functional groups not only are inert in biological media, but also do not occur natively in proteins or other macromolecules.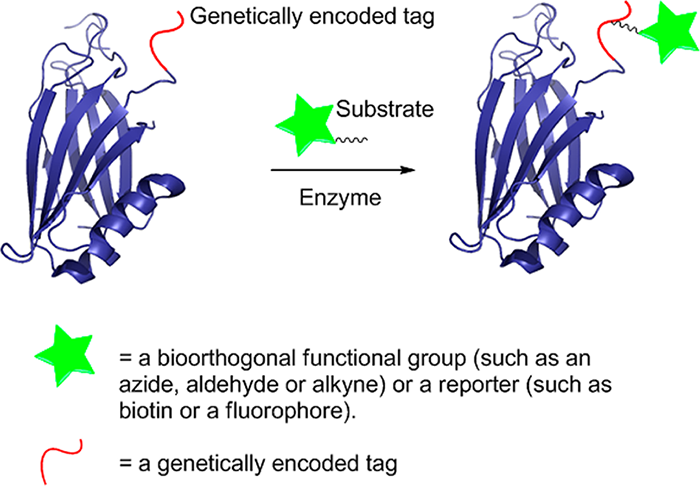 Figure. Site-specific modification of proteins via enzymatic reaction.
Application of Enzyme Labeling
Enzyme labels are used in research, disease screening, medical diagnosis and forensic testing.
Enzyme-labeled molecules can be designed to activate or deactivate to provide quantitative measurements of the molecules to which they are attached. For example, an enzyme-labeled test is a blood test to determine the extent of damage caused by a heart attack.
Enzyme labels can also be used to locate tumor tissue in the body.
Our Services
We offer custom enzyme conjugation and modification services to be used as signal generating molecules. Enzymes such as Horseradish Peroxidase (HRP) or Alkaline Phosphatase (ALP), Alkaline Phosphatase Amplification (AMP), etc.
Experimental Design and Development of schemes and programs for the preparation of markers for various Detection and Analysis Systems.
Enzyme labeling services include experimental design and the development of procedures for the development of conjugates for various detection and determination systems.
We ensure maximum retention of activity of both enzyme and protein by using different coupling chemical methods.
Non-enzyme fluorescence labeling and biotin can be coupled with specific antibodies, proteins and peptides as a means of signal generation.
Our Advantages
Advanced equipment and technique
Experienced scientific team
The advanced Enzyme Labeling platform
Highly reliable and reproducible result
Data analysis, detailed report with results and discussion
Quality one-stop service
Cost-effective
Project Workflow
With novel technology platform and professional scientist team, BOC Sciences offers clients a wide range of enzyme labeling services, and we promise to provide customized solutions to meet each customer' s unique requirements. Please feel free to contact us for more details.