BOC Sciences is committed to providing highly customized comprehensive solutions with the best quality to advance our global clients' projects. Relying on a state-of-the art chemical biology facilities and many years of combined experience in providing high quality bioconjugate complexes, BOC Sciences's custom nanoparticles & beads conjugation service is flexible, reproducible and quality guaranteed!
Introduction
Nanoparticles have important scientific research value, which builds a bridge between large masses of matter, atoms and molecules. The physical properties of bulk materials are usually independent of size, but this is not usually the case in terms of nanometer size. At present, some special physical properties have been observed, such as the quantum binding of semiconductor nanoparticles and the superparamagnetism of surface plasmon resonance, magnetic materials of some metal nanoparticles. Solid-like and soft nanoparticles are also produced. Liposomes are typical nanoparticles with solid-like properties.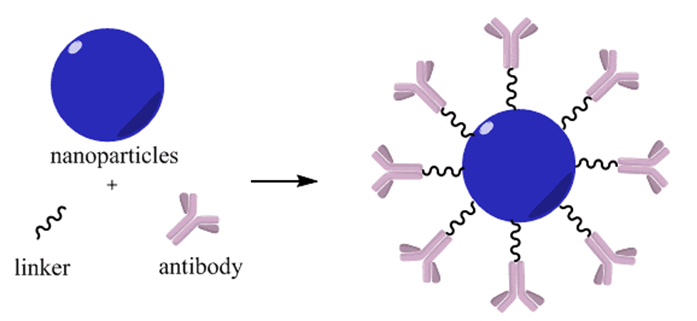 Application
Flow cytometry / fluorescence microscope
Immunochromatographic test strip / test
Agglutination test / detection
Calibration / verification
Cell separation
Nucleic acid purification
Protein purification
Proximity detection
Instrument QC
Magnetic particle analysis
Molecular diagnostics
Targeted therapeutics
Improved toxin/pathogen testing
Molecularly-resolved medical imaging
Our Services
BOC Sciences provides particle conjugation and can be used in a variety of biological applications. Biomolecules include antibodies, protein A, protein G, lectins, enzymes, toxins and other proteins that have been combined with large particles or nanoparticles for diagnostic testing and many other research products. In addition, we can provide type of macroparticle and nanoparticle: Glass, plates, nitrocellulose membranes, polystyrene, dextran gels, resins, nanogold, nanosphere, nanocrystal, polymer microspheres, magnetic sphere, fluorescent sphere or luminex beads and qDot. Our custom particle microsphere conjugate service has flexibility, repeatability and quality assurance!
Our Advantages
Advanced equipment and technique
Experienced scientific team
The advanced Enzyme Labeling platform
Highly reliable and reproducible result
Spacer between the nanoparticle and conjugated ligands
Data analysis, detailed report with results and discussion
Quality one-stop and flexible service options
Project Workflow

Can't find the type of service you need? Don't worry. We have provided numerous bioconjugation services that extend beyond the described service portfolio. Simply contact us with your detailed project descriptions. In most cases, we can accommodate your bioconjugation needs!